Gay Days Orlando (Website) brings over 150,000 people to the area each year, and each consecutive year it gets bigger and bigger. Most of the programming this year is happening around the host hotels in the tourist corridor and the amusement parks, but we've assembled a list of ten consummate "Orlando" experiences for our visitors to check out while they're in town.
Gay Days lasts from May 30 to June 4.
1) Visit 49 Portraits at Orlando City Hall
Mia Merlin, an art professor at Armstrong State University in Savannah, Georgia, assembled 51 pieces of art from artists across the country, to honor the 49 victims of the Pulse Nightclub attack last year.
The works are on display, for free, at the Orlando City Hall in Downtown Orlando [GMap] from 8 a.m.-5 p.m. Monday through Friday.
2) Tubing at Rock Springs in a fun little bathing suit
Everyone hits up the pool parties at the host hotels during Gay Days, but we have a feeling that these fabulous out-of-towners would really enjoy a trip down the laziest river of all, Rock Springs in Kelly Park [Gmap].  You can rent old rubber tubes on the way in to the park, or bring your own like this unicorn in the photo above. Park admission is $3 per vehicle.
3) Rent a Juice Bike and pedal around our awesome neighborhoods
Do you even Juice, bro? Juice Bike Share (Facebook | Website) is Orlando's best, and only, bike share program. With over 200 bikes on-hand to take you anywhere you want to go in the City Beautiful. We recommend taking a public art tour of our awesome public art, click HERE to see a list of some of our favorites from 2015 (before you say anything, we're working on updating it with all of the new pieces out there).  Click on the link above to download the app and sign up. Pay by the hour, park it wherever you want, and uber somewhere for dinner. The handy GPS units in the bikes make it so you don't have to return them to the racks you rented them from.
4) Tour our amazing craft brew scene
Orlando's craft beer scene has been booming in the past couple of years, so you may have missed it on your last trip. If you're not avoiding carbs be sure to try at least a handful of these great spots that we've listed below.
5) Catch a soccer match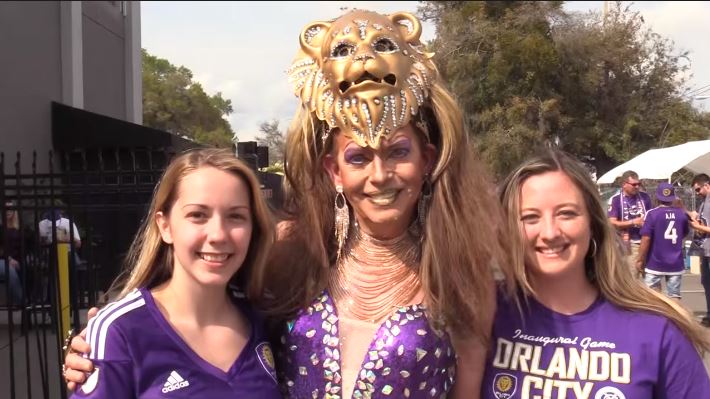 Orlando bleeds purple now. It's a thing. We have a beautiful new Downtown stadium that fills up rowdy spectators each weekend. There's also a gay bar just across the street from the stadium, Stonewall Bar Orlando (Facebook | Website) where you can people watch and dance from a safe distance. Stonewall also has a merman tank.
There happens to be a game on Sunday, June 4 against Chicago at 7:30 p.m. Get your tickets HERE.
6) Mimosas at the Orlando Farmers Market
One of the best ways to get a feel of the real Orlando, is to plop yourself down in the beer garden at the Orlando Farmers Market each Sunday, and douse yourself with mimosas. You can get the all-you-can-drink mimosa deal for $12 and knock them back between noon and 5 p.m. before heading somewhere for dinner.
Click HERE to see all of the great vendors and learn more about the market.
7) Paddle a swan boat on Lake Eola
Lake Eola Park is at the center of Orlando, figuratively and literally. The sink hole-turned-amenity is crowned with the Linton E. Memorial Fountain and littered with majestic swans doing swan things all day. You can even rent a swan boat and join the other waterfowl and pretend you're performing your own, albeit clunkier, version of Swan Lake. Don't worry, it's all in the arms and the face. Just sell it.
You can rent a swan boat HERE for $15 per half hour 10 a.m.-7 p.m. Sunday through Tuesday, and 10 a.m.-7 p.m. Wednesday through Saturday. We recommend bringing a cooler and just parking a few feet off dock for 30 minutes and then drifting back so you don't get too sweaty.
8) Florida Prize in Contemporary Art at OMA
The Florida Prize in Contemporary Art is an annual exhibition that recognizes ten outstanding Florida artists for their, well, outstanding works. And it's happening right now at the Orlando Museum of Art (Website). The artists range from emerging to mid-career, with significant achievements and exhibitions under their belts.
Click HERE for more information on the exhibition.
9) Come bare witness to Park Avenue in Winter Park
Winter Park is its own separate municipality that grew in the shadow of it's sprawling, subway man-spreading neighbor, Orlando. It's a little prettier, a little more put together, and a lot more bougie. It's the perfect place to put on some pastels and go shopping if you're looking to pretend you have more money than you really do.
It also happens to have plenty of its own award-winning art museums, parks, and galleries. Enough to be a whole day trip of its own. Be sure to book a cruise on the Winter Park Boat Tour (Website) while you're there, so you can see the tropical canals and lakeside mansions that make Winter Park the gem that it is.
10) Patron some of our home-grown LGBTQ hotspots
Orlando is really, really gay, due in no small part to the amusement parks, which employ a large population of creatives, performance and service workers. Because of that, we have a number of amazing LGBTQ+ venues to check out while you're in town, and rub elbows with the townies. Plus, in the shadow of  Pulse, your money will go further if you spend it locally.