SPONSORED: As we announced earlier in the month, the Orlando Museum of Art (Facebook | Website) has released their 2018 artist lineup for their annual blockbuster exhibit, Florida Prize in Contemporary Art. 
As in previous years, the chosen artists range from emerging to mid-career, with significant achievements and exhibitions under their belts, but the one thing they have in common is that they are progressive, contemporary artists.
Each chosen artist will show a site-specific body of work that gives an in-depth view of their practice. One artist will be chosen to receive a $20,000 award; the "Florida Prize."
This year's exhibition will run from June 2-August 19 and will kick-off with an Opening Preview Party on June 1 from 7-10 p.m. The party is a ticketed event with a sampling of local restaurant fare inspired by the work of the ten Florida Prize artists and a selection of cocktails.
Scroll down to see their bios, as provided by our friends at the Orlando Museum of Art.
Carlos Betancourt
Carlos Betancourt is an American artist, generally described as a multi-disciplinary artist. Betancourt artwork is in part inspired by his relationship with nature as well as by the diverse cultures and history of the Caribbean basin, Florida and the Americas. His work is also known for his glitzy bravado, re-introducing glitter and other colored materials to contemporary art. His ways of bending the lines between art, photography, and nature in his large format vinyl, photographs, installations and photo performances are considered highly innovative.
Brooks Dierdorff
Brooks Dierdorff is an artist working in photography, video, sculpture, and installation. He has exhibited his work both nationally and internationally. For three years Dierdorff was co-director of Ditch Projects, an artist-run exhibition space in Springfield, Oregon. Currently, Dierdorff co-directs Grammar Center Press, a small-run artist book press located in Orlando, Florida and is Assistant Professor of Photography at the University of Central Florida. His work pursues ideas related to photography, ecology, and landscape.
Rafael Domenech
Rafael Domenech was born in 1989 in Havana, Cuba. In 2009, he graduated from the National Academy of Fine Arts San Alejandro. Having grown up and been educated in a socialist system, an interest for architectural spaces and public propaganda naturally defined the foundation for Domenech's early work. Rafael worked for a year as an assistant at a planning office in a section that dealt with political propaganda. In 2010, Domenech arrived in the United States, and a year after enrolled in the New World School of the Arts, graduating in 2015. This transition and process of geographical relocation and cultural integration was transformational, quickly broadening the influences and interests of the artist.
Gonzalo Fuenmayor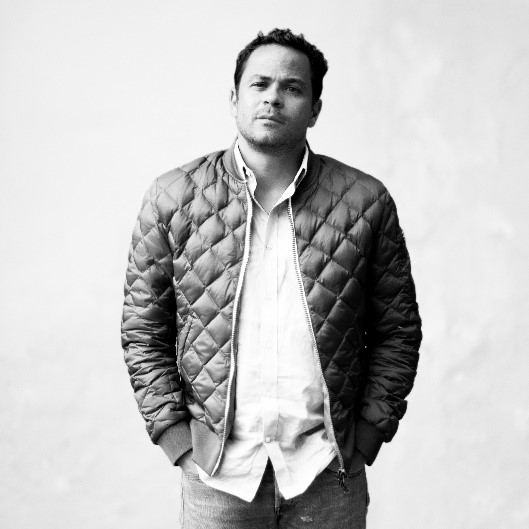 Born in Colombia, but a resident of the United States for over 20 years, Fuenmayor's precise charcoal drawings continually explore themes of cultural hybridity, exoticism, and identity politics. Fascinated by the idea of how the exotic is created or established as a "trademark" and of how, during this process, it ends up by being standardized, Fuenmayor presents, through these pieces, spaces for reflection, wherein the viewer is the conscious link that connects these monumental drawings.
Ya Levy La'Ford
Ya Levy La'ford is an interdisciplinary visual artist, painter, installation artist, muralist and a social practice artist, as well as a professor who exhibits her work nationally and internationally. Through painting, sculpture, and community arts practices, she creates a safe space for dialogue around some of the most profound issues communities and individuals may face. Her work tells stories using large-scale paintings, layered with richly textured paint and embedded with thick, painterly geometric lines interconnecting through space and color. Her work reflects her cultural hybridity.
Jason Lazarus
Jason Lazarus is a conceptual artist whose research asks how we may understand and utilize increasingly broad definitions of 'photography' in an expanded field. Utilizing not only the camera but found and appropriated images, text-as-image, animated GIFs, photo-based sculptures, photographic printing inks-as-image, live archives, and public submission repositories, this expanded photographic practice seeks new methods of research, representation, and bearing witness. Lazarus is an Assistant Professor of Art and Art History at the University of South Florida and an MFA Low Residency Program Mentor with the School of the Art Institute Chicago.

Glexis Novoa
Glexis Novoa is a visual artist. Since the late eighties, he has produced art in many different media, including painting, performance, installation, and, most recently, graphite drawings—the material that would become his trademark. Novoa has attained international recognition for his site-specific wall drawings, which exist on the border between ephemeral art and architecture. His work repeatedly turns to the architecture of power and politics as its main subject.
Kerry Phillips
Kerry Phillips has participated in numerous solo and group exhibitions including projects with Locust Projects, the Miami Art Museum (now Pérez Art Museum Miami), Museum of Contemporary Art, and Boca Raton Museum of Art, among others. Phillips performed Sometimes your things (the great exchange) at Pulse Art Fair, Miami, in association with Girls' Club Fort Lauderdale and Crush Letters at the Last Minute Performance Festival, Krakow, Poland. She was awarded the 2015 South Florida Cultural Consortium Fellowship for Visual & Media Artists and created an installation at Vizcaya Museum and Gardens for its Lost Spaces and Stories of Vizcaya project.
Kenya (Robinson)
 Kenya (Robinson) is an American multimedia artist whose work includes performance, sculpture, and installation. A native of Gainesville, Florida, (Robinson)'s work depicts themes of privilege and consumerism, while investigating the role of blackness as the delineator of politically identifiable whiteness in the United States. Having presented performance work at MoMA, The Kitchen and The High Line, (Robinson) is continuing to develop interactive performances featuring CHEEKY LaSHAE, a fluid identity karaoke singer, whose embodiment is achieved through audience participation.
Jack Stenner
Jack Stenner is Associate Professor of Art and Technology at the University of Florida, Gainesville. His art practice synthesizes culture, hardware, and software to create conceptual work taking forms such as networked installation and experimental cinema. He has worked with artists in the context of an alternative art space he founded in Houston, Texas, for almost 10 years. His work has been exhibited nationally and internationally, at venues including Computer Art Congress, International Society of Electronic Artists, ZeroOne Biennial, Alternative Museum, Museum of Modern Art Mexico, The High Museum, and others.