Here is a look at some of the best events taking place this weekend. Remember, you can always visit the complete events calendar by clicking on "EVENTS" on our main menu.
The City of Orlando is working with Waze, a GPS software company, to table real-time traffic updates. Click HERE to get up-to-date road closure information before heading Downtown.
If you'd like to have your event added to our calendar, simply send a link to your Facebook event page to [email protected].
FRIDAY, JANUARY 4
Over 80 local artisans of all genres will display their art while guests shop and stroll through the heart of downtown Baldwin Park. Also featured are many Central Florida based small businesses and non-profit organizations with products and offerings ranging from health and fitness to beauty and fashion, as well as community service opportunities. This FREE sidewalk festival is held the First Friday of every month from 5:30-9:30 pm, and is both family and pet-friendly.
THE TIME HAS COME! All Stars 4 is here…and you can watch it with the rest of Orlando at the Parliament House! Addison Taylor mixes up the drinks in the Absolut Video Bar beginning at 6 pm.
SATURDAY, JANUARY 5
StoryCorps arrives in Orlando in January to record and preserve the Orlando community's stories! Join us at the StoryCorps Opening Day event at 11:30 a.m. Saturday, Jan. 5, at the MobileBooth location, Orlando Museum of Art, 2416 N. Mills Ave. You'll hear from StoryCorps' facilitators and 90.7 WMFE President & General Manager LaFontaine Oliver. You'll also have a chance to tour the MobileBooth. =
Join us as we clean-up litter in and around Lakes Berry and Spier. Activities may include but are not limited to picking up litter in and around the lake – stooping, kneeling, and bending. Please meet us at 1111 S. Lakemont Avenue – Westminster WP by 8 am. Breakfast, a volunteer t-shirt, snacks, and water will be provided. We will also provide litter grabbers, safety vests, gloves, and garbage bags. =
Route and times to be posted later The mission of the Silkies Ruck Hike is to bring veterans together in an environment where they are able to bond with other veterans and create a support network in order to prevent veteran suicide.=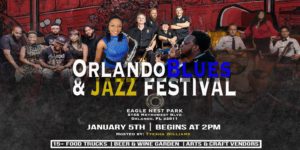 Performances by Lady Smooth Sax, The Smokin Torpedoes, The Conglomerate, and Olyvya Kells &The Live Vibe All-Stars and Ramona The Band! Enjoy a day of 4 live bands over 15+ food trucks, and enjoy our beer & wine garden! General Admission is open seating bring your chair, blanket and relax on the grass.=
Get ready to celebrate the birthday of the worlds most brilliant actor with a night of his greatest movies, drink specials and Nicolas Cage-inspired everything! We'll be serving: *National Treasure: Vodka Concoction *Coppola Wine Shots *Vampire's Kiss Sake Shots *more TBA …as well as the finest craft beers and ciders in Thornton Park!
SUNDAY, JANUARY 6
The Steamin' Trio is made up of players from the Central Florida area with a sense of New York Flair. The Steamin Trio plays tunes from jazz standards to Brazilian to Funk to arrangements of pop tunes in a Jazz fashion. These guys even perform holiday music!