A "locavore" is a person whose diet consists only or principally of locally grown or produced food. Along those lines, every month, local chefs welcome Orlando's locavore, Misty Heath, into their kitchens to break down how to make some of their signature dishes for our readers to make at home.
This column is also featured in our monthly print product, available in restaurants and storefronts across the City Beautiful.


I've been a fan of Vinia Wine & Kitchen (Facebook | Website) since the day it opened.
This cozy wine bar is tucked away in a quaint corner of Hannibal Square in Winter Park and it's perfect for a low key drink with friends or coworkers, or a first date.
Fabio Perricelli and Paula Gamba are Vinia's charming owners. Fabio was born in Italy and Paula came to Orlando from Brazil to open their wine bar-baby last fall. The couple has an amazing back story that includes winemaking, goat farming, suspenders, and a serendipitous trip to Shake Shack. Feel free to ask them about it when you visit them at 444 W. New England Avenue [GMap].
In addition to great wines, Vinia boasts a lovely menu that is satisfying, beautifully presented, and won't break the piggy bank. When they first offered to teach me the ins and outs of this gorgeous dish, I was intimidated. My thought bubbles included, "Flan? Nage—what the heck is that? So many components…heck no." But Vinia's crew was confident from the start that this was a dish that was sure to impress and totally doable for the non-seasoned cook. With a few tweaks, this dish is approachable, perfect for guests, healthy-ish, and ingredients are relatively cheap, available, and super seasonal.
Here's a step-by-step recipe to make it at home and I recommend approaching in this order. Or just go visit Vinia and have them make it for you.


Pan Seared Cod, Butternut Squash Flan, Spinach with Lemon Sage Nage
Serves 4, with flan and nage leftovers


Butternut Squash Flan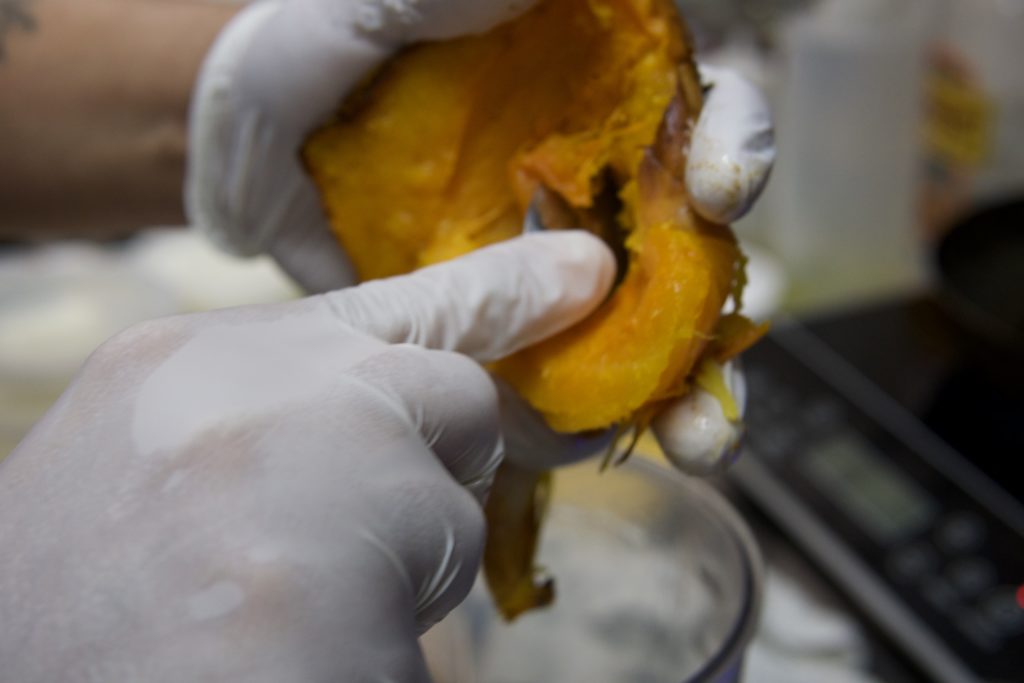 1 butternut squash, medium
1 egg
1 egg yolk
½ cup milk, whole recommended
½ cup heavy cream
¼ cup mascarpone cheese
2 tbsp Olive oil
¼ tsp salt
1 tbsp butter, for greasing pan

Preheat your oven to 400 degrees. Cut the squash in half and clean out the squash "goo." Leaving the skin on, place your freshly de-gooed squash haves onto a sheet pan, lightly drizzle them with olive oil and roast them until they're soft and fork-tender – about 40-minutes.
Remove your roasted squash from the oven and allow them to slightly cool. With a spoon or knife, remove the skin and allow the squash to cool completely. You should be able to just peel it right off.
Butter a 9×13-inch baking dish (glass or metal).
In a blender or food processor, add in all of the ingredients and purée them until the mixture is smooth and silky. Pour it into the greased baking dish and bake for 30 minutes at 375 degrees, rotating the pan halfway through cooking.
Set aside to allow to cool slightly.
Nage (Savory Poaching Broth)
1 qt water
1 lemon, skin and pith removed, segmented
4 leaves sage, fresh
½ chicken bullion cube
1 cup Heavy cream
In a saucepan, add water, lemon, bullion, and sage on medium heat and allow the liquid to reduce by half. Pluck out the lemon and sage and add in cream. Then simmer for 10 minutes on medium, stirring regularly, until sauce is reduced and thickened. It should coat the back of the spoon while still being slightly runny.
Pan-Seared Cod
1 lb cod, cut into four equal-sized pieces (a thicker cut is preferable)
2-3 tbsp olive oil
½ tbsp salt
Heat your oven to 450-degrees.
Take an oven-safe pan (stainless or cast iron are great) and pre-heat it in the oven for 10 minutes. Pan should be large enough to fit the fish without overcrowding. Season both sides of the fish with salt.
After preheating the pan, add olive oil and fish to sear. Without flipping, put in oven and roast 8 minutes.
Remove from the oven. Using a fish or sharp metal spatula, gently remove the fish from the pan and place it on a plate to rest.
Spinach
1 bag fresh spinach (or clamshell)
2 tbsp Olive oil
½ tsp salt
In a sauté pan on medium-high heat, add oil, then spinach and salt. Quickly wilt the spinach by constantly rotating it with thongs for one to two minutes. Set aside.
Plating
In a pretty bowl or deep plate that is oven safe, layer on a portion of squash. Around the squash, ladle in ¼ cup of sauce. Place it in a 400-degree oven for two to three minutes to warm up squash and sauce. Remove from oven, artfully put fish on top and dot the plate with bits of spinach.
Add a few dots of olive oil in the sauce. Sprinkle with salt flakes and zest a little lemon over top. Viola!